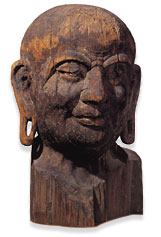 Head of Kasyapa, wood, Tang (A.D. 618-907) H. 77 cm.
2015 Honorees: Jerry Yang and Chen Kelun
Yang Biography • Kelun Biography
2013 Honoree Michael Sullivan
Biography
2011 Honoree Mark Wilson
Biography
2009 Honoree Wu Hung
Biography
Newsletter Announcement [PDF, 351kb]
2007 Honoree James C.Y. Watt
Press Release, 3/20/2007
Newsletter Announcement [PDF, 350kb]
2004 Honoree Wai Kam Ho
Photographs, 8/11/2004
Press Release, 8/11/2004
2002 Honoree Ma Chengyuan
Press Release, 10/1/2002
The purpose of the Distinguished Scholar Award is to recognize and honor achievement for distinguished contributions to the study and preservation of Chinese art and in recognition of lifetime achievement. Awarded every two years, honorees are given a $10,000 cash grant and engraved crystal medallion. Candidates include Chinese art history scholars, curators, museum directors, in China or abroad. The recipient is invited to collect the award in person, and deliver remarks at an award ceremony which may be held in China at the Shanghai Museum, or in New York City. The recipient will be chosen by the AFSM Directors with the counsel of advisors, from among nominations submitted by letter from persons associated in some way with Chinese art. When possible, the Shanghai Museum and the AFSM will coordinate a joint announcement in China and the United States.