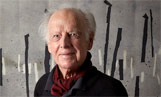 Michael Sullivan standing in front of Walking, 2006, by Wang Huaqing, a painting from his collection of Chinese art. Photograph: David Gowers/Ashmolean Museum/ University of Oxford.
Leading art historian for whom China became a life's work
By Alex Danchev and Shelagh Vainker
The Guardian, Friday 25 October 2013
The art historian Michael Sullivan, who has died aged 96, was one of the most distinguished experts in the field of Chinese art. He had a matchless personal experience of the civilisation that became his life's work, and amassed the leading private collection of modern Chinese art outside the country.
From his first visit to China in 1940 to his last in 2013, he forged and maintained friendships with generations of artists. This was not easy after the founding of the People's Republic in 1949, and it was not until 1973 that he was able to meet again friends with whom he had been unable even to correspond during the Cultural Revolution. In that period, Michael worked and travelled throughout south-east Asia and the Pacific, acquiring a rare pluralism in his perspective on Chinese art, and he remained outspoken in his support of artistic freedom.
His tireless promotion of the understanding of China in the west, as a teacher, writer, traveller and collector, was honoured with the exhibition Michael Sullivan and Twentieth-Century Chinese Art at the National Art Museum of China in Beijing in 2012.
He was born in Toronto, the youngest of five children of Alan Sullivan, a Canadian mining engineer turned prolific novelist (under the pen name Sinclair Murray) and his indomitable wife Elisabeth (nee Hees). The family moved to Britain when Michael was three, and set about educating him as a model Englishman, with only partial success. At prep school (Fonthill, in East Grinstead) and public school (Rugby), he was caned for idleness; at Corpus Christi College, Cambridge, he drifted through a degree in architecture (1936-39).
He lacked direction, but not conviction. A declared pacifist, he heard in autumn 1939 that the Quakers were recruiting a small team to go to China to drive trucks for the International Red Cross. He left the following February, in his own words, "long before the fighting started … and before the tribunals had been set up to test the sincerity of conscientious objectors". For two years, he drove medical supplies between cities in south-west China under bombardment from the Japanese. In 1942, he settled in Chengdu, working at the museum of the West China Union University.
There, the Paris-trained painter Pang Xunqin introduced Michael to Chinese painting and also to many of the artists in Sichuan at that time. In 1943 he married Wu Baohuan, a bacteriologist, who became known as Khoan Sullivan. She devoted the rest of her life to his work.
In 1946 Michael and Khoan returned to London and he began his formal study of the language, history and art of China at the School of Oriental and African Studies (Soas). Moving to Harvard in the US, he completed his PhD in 1952, and embarked on an academic career, first as lecturer in art history and curator of the art museum (which he founded) at the University of Malaya in Singapore. After a stint as lecturer in Asian art at Soas came the breakthrough: in 1966 he was appointed professor of oriental art at Stanford University in California.
Khoan's outgoing nature, together with her Chinese nationality, opened possibilities for Michael that resulted in a groundbreaking book, Chinese Art in the Twentieth Century (1959). Based on conversations and correspondence with leading artists of the 1920s onwards, it was the first on the subject, in any language. Other books quickly followed. A Short History of Chinese Art (1967) went into its third edition as The Arts of China in 1973. The fifth edition is still in print, and, indefatigable, Michael had all but completed the sixth.
No western scholar had a wider acquaintance than Michael among Chinese artists. His commitment to a sympathetic understanding of artists as individuals, rather than products of their environment, never wavered. Many of these artists gave him examples of their work. So began the Khoan and Michael Sullivan Collection of Modern Chinese Art – an accidental collection, as Michael liked to say, formed mostly of gifts and only latterly of purchases as well. The collection is broad and rich, including ink paintings by Zhang Daqian (several from the 1960s with dedicatory inscriptions to Khoan) and Qi Baishi, and woodblock-printed works by Huang Yongyu and Xu Bing. Michael remained at Stanford until 1984, when he returned to England as a fellow of St Catherine's College, Oxford. In 1990 he became an emeritus fellow, but retirement was foreign to him. He remained active, surrounded by his research assistants (the "little animals", as he called them fondly), until the end. Khoan died in 2003. The Sullivan Collection is due to become part of the permanent collection of the Ashmolean Museum in Oxford.
•Donovan Michael Sullivan, art historian, born 29 October 1916; died 28 September 2013
Source: The Guardian