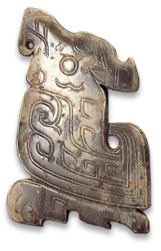 Bird, late Shang, 13th-11th century B.C.
American Friends of the Shanghai Museum Confer Chinese Art History Distinguished Scholar Award
New York City, March 20, 2007 — James C.Y. Watt, received the 2007 Chinese Art History Distinguished Scholar Award from Patricia Pei Tang, President of the American Friends of the Shanghai Museum. She delivered congratulatory remarks on behalf of Director Chen Xiejun of the Shanghai Museum; Architect I.M. Pei spoke to express his appreciation of the honoree's contributions to his understanding of the modern museum. Collector Eugene V. Thaw introduced Mr. Watt to the scholars, directors, patrons and benefactors associated with the American Friends who gathered to honor him.
James C.Y Watt is the Brooke Russell Astor Chairman, Department of Asian Art at the Metropolitan Museum of Art. Before joining the Met in 1985, he held positions at the Museum of Fine Arts in Boston, the Hong Kong City Museum and Art Gallery and the Chinese University of Hong Kong, where for three years, he was Chairman of the Board of Studies in Fine Arts, as well as curator for the University's Art Gallery.
In remarks recalling that Mr. Watt organized his "Nomadic Art of the Asian Steppes" exhibition at the Metropolitan Museum of Art, Mr. Thaw recalled "how quietly and subtly James would reveal more and more layers of knowledge ... , leaving us amazed, grateful and wondering how much more depth and wisdom was still to come." He singled out Mr. Watt's "good manners, knowledge and wisdom in the word 'civilized,' he is probably the most civilized man I know."
In his remarks at the dinner, Mr. Watt delivered a statement about the tension "between the critical theorists and 'theory' taking over the field of art history — at least in academia, and those of us who continue to work in museums ... find[ing] ourselves in a state of siege, with theoretical art history on one side and crusading archaeologists on the other. How that is going to end, I shall not predict. I can only hope that eventually there will be some degree of mutual accommodation. Otherwise, the prophets who proclaim the end of art history, and that of art altogether, will have their prophecy fulfilled."
"Closer to our own field of Asian art history, and that of Chinese art in particular, there is another kind of schism" — and it has a long history, he continued. "Many Chinese even today think that if you are not brought up in China and steeped in Chinese culture, you can never understand Chinese art. Those who work outside China think that the critical deficiency in the Chinese approach to the study of art is the lack of art history as an academic discipline — and by that I do not mean that the kind of art history that is being practiced at universities in the US and in Europe. It is organizations like the American Friends of the Shanghai Museum that will help to bridge this gap of understanding by providing opportunities for Chinese scholars to visit the States, and eventually we can all work together to mutual benefits. As the great Chinese scholar Wang Guowei, who lived at the end of the Qing dynasty and the beginning of the Republic famously said, "There is no such thing as Western scholarship and no such thing as Chinese scholarship, there is only scholarship."
Mr. Watt was accompanied by his wife, Sabine Rewald, The Jacques and Natasha Gelman curator in the Department of 19th-Century, Modern, and Contemporary Art at the Metropolitan Museum of Art.
The $10,000 Chinese Art History Distinguished Scholar Award and engraved crystal medallion, conferred for the first time in 2002, again in 2004 and now for a third time in 2007 to James C.Y. Watt, is awarded to scholars who have made lifetime contributions to the study, exhibition and preservation of Chinese art. Recipients are selected by the Directors of the American Friends from among nominations submitted by professional colleagues in academia, museum departmental curators and others who focus on Chinese Art and Art History. Ma Chengyuan, Director Emeritus of the Shanghai Museum received the first AFSM Chinese Art History Distinguished Scholar Award in 2002. Dr. Wai Kam Ho received the second Award in 2004.

Contact: Patricia Pei Tang [or Ann Brownell Sloane]
Phone: 212-861-7799 [or 212-737-1011]
Email: PPeiTang@aol.com [or absloane@nyc.rr.com]