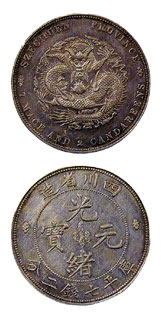 Silver Dollar and Ingot, Qing, A.D. 1644-1911.
American Friends of the Shanghai Museum Confer Chinese Art History Distinguished Scholar Award
New York City, August 11, 2004 — Wai-Kam Ho, curator and scholar of Chinese Art and Asian Culture received the 2004 Chinese Art History Distinguished Scholar Award from Patricia Pei Tang, President of the American Friends of the Shanghai Museum. Executive Director Wang Qingzheng delivered remarks on behalf of the Shanghai Museum, and James Watt, Brook Russell Astor Chairman, Department of Asian Art at the New York Metropolitan Museum of Art introduced Professor Ho to the scholars, directors, patrons and benefactors associated with the American Friends who gathered to honor him.
Professor Ho is the former curator of Oriental and Chinese Art at the Cleveland Museum of Art and Laurence Sickman curator of Chinese Art at the Nelson Atkins Museum in Kansas City, MO, as well as recipient in 1992 of the inaugural Shimada Prize awarded in Tokyo for the Most Important Publications which contribute significantly to the Study of Chinese Art and Asian Culture. In his remarks, Director Wang singled out Professor Ho's long term scholarly interests and achievements. In his introduction, Mr. Watt related the other half of Professor Ho's life including his start in America after WWII at Harvard in the Dual Program of Art History and Chinese History followed by an illustrious career of mounting exhibitions and conducting symposia of Chinese art at the Cleveland and Kansas City Museums which attracted scholars from all over. Wai Kam Ho may be, Mr. Watt concluded, the last of the great masters of pure conversation.
In his remarks at the dinner, Professor Ho delivered a defense of connoisseurship, the center of a cultural and intellectual dilemma which has divided the field of art history into bitterly opposing groups over the past twenty years or so, by examining the three components that make up the credentials of an art historian, and providing examples of traditional Chinese connoisseurship that have served him over a lifetime.
Professor Ho was accompanied by his wife, Wai-ching, their daughter Dawn Ho Delbanco and two grandchildren, and their son Kevin Ho and his wife.
The $10,000 Chinese Art History Distinguished Scholar Award and engraved crystal medallion, conferred for the first time in 2002, and now for the second time to Professor Wai-Kam Ho, is awarded to scholars who have made lifetime contributions to the study, exhibition and preservation of Chinese art. Recipients are selected by directors of the American Friends, from among nominations submitted by professional colleagues in academia, museum departmental curators and others who focus on Chinese Art and Art History. Ma Chengyuan, Director Emeritus of the Shanghai Museum received the first AFSM Chinese Art History Distinguished Scholar Award in 2002.

Contact: Patricia P. Tang [or Ann Brownell Sloane]
Phone: 212- 861-7799 [or 212-737-1011]
Email: absloane@compuserve.com