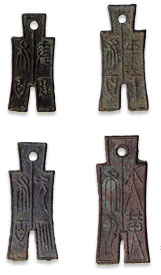 Wang Mang Coinage, Western Han Dynasty, A.D. 8-23.
Personal Information
Wai-kam Ho. Male. Born on March 26th, 1924. Nationality: America. Place of Birth: Guangdong Province, China. Marital status: Married. Two children. Address: 320 Fort Duquesne Blvd. Gateway Towers, unit 12-A Pittsburgh, PA 15222, U.S.A.
Educational and Professional History
Lingnan University (B. A., 1947)
Graduate Study Yenching University, Institute of History (1947-48)
Research Assistant to Professor Ch'en Yin-k'o, Lingnan University (1949)
Harvard University (M.A., 1953), only candidate for the Special Joint Program for Ph.D. in Chinese History and Asian Art, jointly offered by Department of Far Eastern Languages and Department of Ari History (1951-1958)
Curator of Oriental and Chinese Art at Cleveland Museum of Art, Ohio (1959-1983)
Laurence Sickman Curator of Chinese Art at the Nelson Akin Museum, Kansas City (1984-1994)
Visiting and Adjunct Professor at Harvard University (1976), Case Western Reserve University (1962-1983), and University of Kansas (1984-1992)
Oversea Fellow of Institute of Chinese Culture, Hong Kong Chinese University (1988)
Honors
Received the inaugural Shimada Prize for the Most Important Publications which contribute significantly to the Study of Chinese Art and Asian Culture (1992, Tokyo)
Received the 2004 Distinguished Scholar Award in Chinese Art History established by the American Friends of the Shanghai Museum "to recognize his lifetime achievement as the premier curator in America of Chinese Art."
Invited by Beijing Palace Museum as Guest Curator (2004, Beijing) Invited by Shanghai Museum as Guest Curator (2004, Shanghai)
Publications
Books in English and Japanese include Chinese Art under the Mongols with Sherman E. Lee (1968), Four Masters of Late Yüan (in Japanese 1972), Eight Dynasties of Chinese Painting (1980), The Century of Tung Ch 'i Ch 'ang (1992).
Articles in English, Chinese, and Japanese including the most recent ones: "The Trubner Stele in Metropolitan Museum: A Problem of Authentification and Connoisseurship" (2001); "Dipankara Buddha's Prophecy for Sakyamuni: A Study of Jin Painting at Lzaoning Museum Part l" (2004); "Some Art Historical Problems Concerning the Design and Production of 'Nacisi' in the Textile Industry under Straight Governmental Control in Yuan Dynasty" (2004); "'Wei': The First Guiding Principle for Compositional Structure in Early Chinese Painting and the Restoration of Xie He's) Fifth Law" (2004)
Family
Wife: Wai-ching Ho. Lingnan University (B.A., 1947), Columbia University (M.A., 1950), Harvard University Ed.D. in Psychological and Educational Statistics, 1957). Daughter: Dawn Ho Delbanco. Harvard College (B.A., 1973), Harvard University (Ph.D., 1981), now teaching Chinese Art in Columbia University. Son: Kevin Ho. Harvard College @.A, 1982), Columbia University (M.D., 1988), now teaching at School of Medicine, University of Pittsburgh.